Zucchini Crust Pizza with Pesto Sauce and Colorful Heirloom Potatoes
Written by Eydie Desser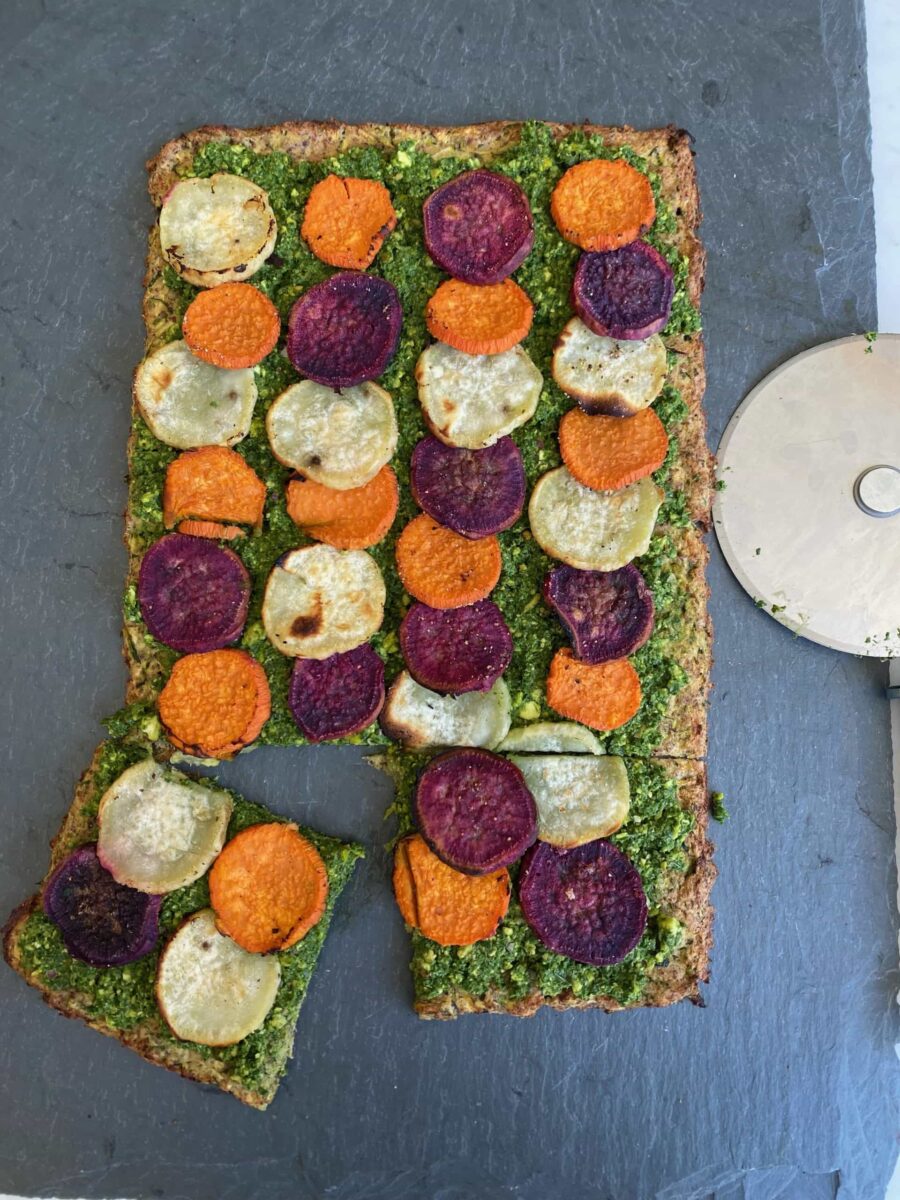 I love going to an invigorating spa for relaxation, rejuvenation and, of course, to eat some delicious, healthy, and usually beautifully plated fare. This elegant zucchini crust pizza with pesto sauce and colorful heirloom potatoes would definitely make it on a superb spa menu! I tweaked the original recipe by removing the salt from the crust mixture, and then adding lemon juice. I also added spinach to the pesto which helped bring a nice bit of natural saltiness to the meal as well. To make the flavor of the potatoes pop, squeeze a little lime juice before roasting, you won't believe the transformation. Those roasted potatoes add such a depth of sweetness to the pizza that will make your tastebuds so happy! All these little swaps and tricks make the food healthier without losing it's yum factor. Ready to get cooking? Let's jump in!
Ingredients
For the Crust:
2 cups finely grated zucchini (about 10-12 oz.)
1 chickpea egg (4 TB chickpea flour, 4 TB water whisked together)
½ tsp. Freshly squeezed lemon juice
½ tsp. Dried oregano (crumbled between your fingers)
½ tsp. Garlic powder
¼ cup almond meal


For the Kale Spinach Pesto: (can be made in 1-2 day in advance)
2 cups curly green Kale, leaves torn from the stem
1 cup packed basil leaves
1 cup packed spinach leaves
3 garlic cloves, minced (1 TB)
1/3rd cup Pistachios, shelled, either raw or roasted
Juice of 1 lemon, or more to taste
¼ tsp. Red pepper flakes (optional)
2 TB -¼ cup water
Freshly ground black pepper to taste


For the heirloom potatoes:
Choose equal in size and thickness: orange fleshed sweet potato, Hannah Sweet potatoes with white flesh, and Japanese Purple Sweet potatoes. I try to find long narrow potatoes so the slices will cook all at the same time.
Juice of ½ lime to sprinkle over the potato slices
Freshly ground black pepper


Instructions
Make the Pesto:
Blend the kale, spinach, basil, garlic, lemon juice and red pepper flakes in the food processor. The pesto should be thick.
With the machine running, pour in the water, a little bit at a time, adding more, if needed to get to the right consistency.
Add black pepper, more red pepper flakes and lemon juice to taste.
If making in advance, place pesto in a container, and press plastic wrap on top of the pesto so that it doesn't oxidize and will stay bright green. Refrigerate until ready to use)
Make the Potatoes:
Preheat the oven to 450℉, place rack in the middle of the oven, and line a baking sheet with parchment paper or a silicone baking mat.
Place the whole potatoes in a large pot, cover with water and boil for 5 minutes, or until just tender enough to pierce with a knife. You want them still firm enough to slice.
Drain the potatoes and let cool to touch, then peel and slice to ⅛" thickness.
Sprinkle the potatoes with lime juice and black pepper and place on the baking sheet and put into the oven.
Roast for about 10 minutes, until starting to brown.
Turn over and let cook for another 4-5 minutes or until cooked through.
Remove from the oven.
Make the Crust:
Preheat the oven to 400℉, place rack on lowest level in the oven
Place the grated zucchini in a nut bag and squeeze out as much water as possible.
In a bowl, shisk the chickpea flour with water and add oregano, garlic powder and lemon juice until smooth. Add the grated zucchini and almond meal or flour. Stir to combine, adding more almond meal if the mixture is too wet.
Place parchment paper on a baking sheet and spread zucchini mixture to a rectangle measuring 7" x 10-½".
Bake the crust on the rack for 10-12 minutes.
Place rack at top of the oven and bake another 5 minutes or until the crust is brown.
Remove from the oven and let cool.
Make the Pizza:
Place pizza crust on serving tray.
Spread the pesto on top and arrange the roasted potatoes on top of the pesto.
Slice and serve with delight.