Watermelon, Coconut, and Berry Flag "Cake" for Fourth of July
Written by Eydie Desser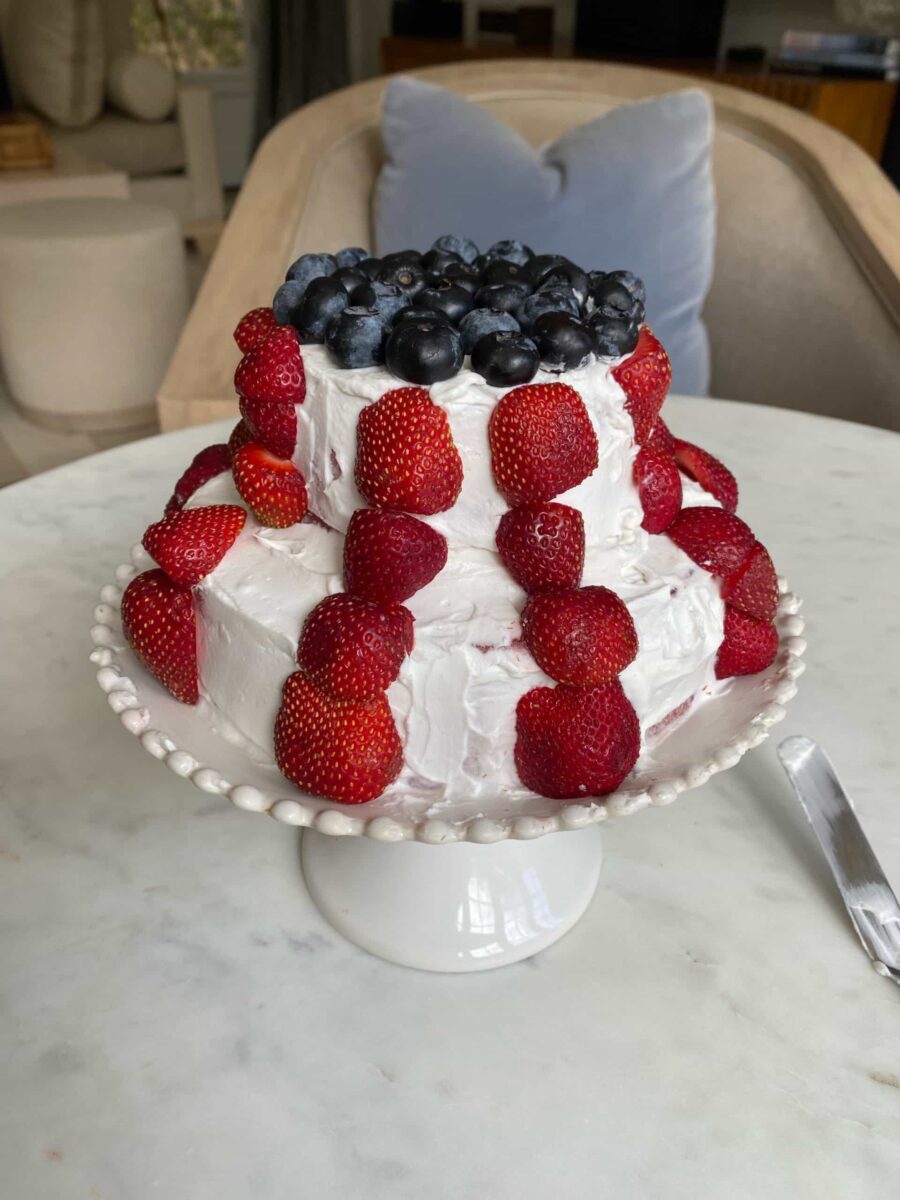 Happy Birthday America! This is the Garden of Eydie way to celebrate the holiday healthfully. You can make this "cake" larger or smaller, depending on the size of your watermelon, and amount of berry toppings you add. It's easy, healthy, fun to make, and oh so yummy!
Ingredients
1 large oblong seedless Watermelon
1 can Coconut Cream
Blueberries
Strawberries
Instructions
To make the Watermelon Layers:
1- With a large knife, slice two- 2" thick slices from the middle of the watermelon. Cut off the skin, including the white pith from both pieces.*

2- Trim one slice to 6-½" round, and the second slice to 5" round.


To make Coconut Cream Icing:
1- Pour the cream into a large mixing bowl and with a whisk, hand-mixer or standing mixer, whip the cream until it's thick and aerated. About 1 minute.


To make the Watermelon Cake:
1- Dry the watermelon slices with a paper towel. Place the larger slice of melon on a cake stand, or serving piece you will be using. Note: The watermelon cake will be iced twice. After applying the first layer of icing, we'll be refrigerating the cake for an hour or so, to let the icing harden. Then, follow by applying another layer to fill in any gaps and make the outer layer of icing smooth and ready for toppings!

2- Using an offset spatula, place a large dollop of cream on top of the slice and smooth it over the top, and down the sides in a thin layer. Add more icing, smoothing and spreading until it thinly covers the slice. Do the best you can…this doesn't have to be perfect! Place the smaller piece of watermelon on top and finish icing.

3- Refrigerate for one hour, remove and ice once more.


For the Flag Decorating:
1- Add blueberries to cover the top of the cake and sliced strawberries to make the red stripes. Other berries like raspberries, blackberries, cherries can also make great additions to your decorations if you're looking for additional toppings!

Refrigerate until ready to serve. Happy 4th of July!