The Best Kabocha Squash Soup
Written by Eydie Desser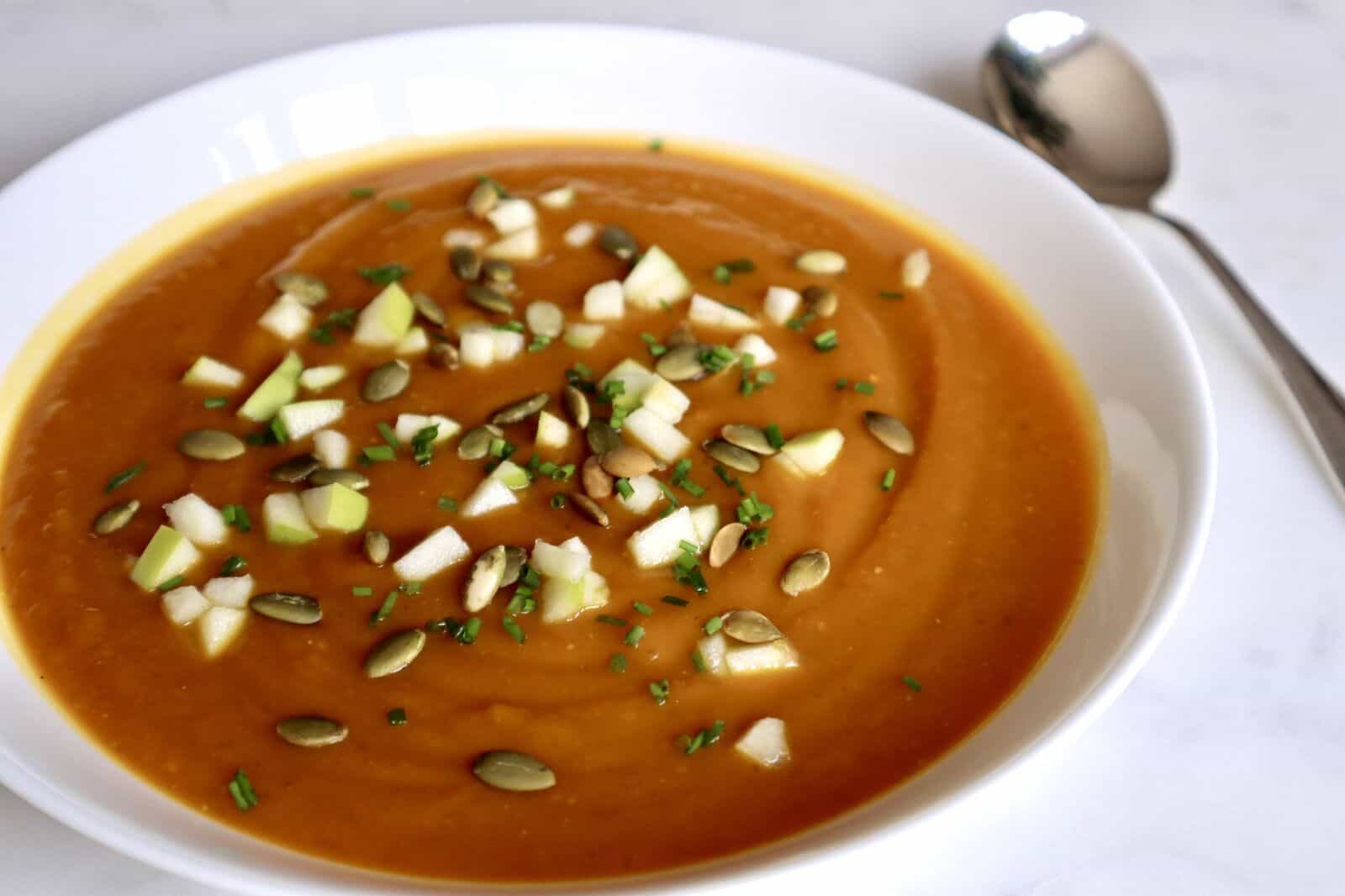 6 (but it's so good, maybe just 4!) I also serve this as a shooter and this will feed about 15 (2-3 oz. portions) Serves
Seriously, this is everyone's favorite soup — a recipe from my Chef mentor, Alfred Portale, but made with the "Eydie" treatment: subbing out veggie stock for chicken stock, cooking without oil and using minimal salt. When I first made this soup, I followed the recipe to a "t," but I promise you, giving it the "Eydie treatment" made it healthier, and did not alter the flavor one iota! 

I must admit, I really did not look forward to making this soup because peeling the very tough Kabocha squash is so very difficult. I tried peeling it with a sharp chef's knife, then a peeler. My hands would ache and bleed! It was impossible. Now, thanks to the Internet, I learned that all you have to do is poke holes in the squash with a knife all over and place it in the microwave. Depending on the size (I used 2 (3) lb. squash, this time) and microwaved it for 5 minutes. Let it cool, then it is so very easy to peel and seed with a Chef's knife. 
Serves: 6 (but it's so good, maybe just 4!) I also serve this as a shooter and this will feed about 15 (2-3 oz. portions)
Ingredients
½ medium yellow onion, peeled and diced (about ⅔ cup)
1 stalk celery, coarsely chopped (about ⅓ cup)
1 TB fenugreek seeds, ground in a spice grinder
1 TB grated ginger
1 garlic clove, peeled and finely chopped
¼ tsp. ground cloves
1 large Kabocha squash or 2 smaller ones (total 5 lbs.), peeled, seeded and diced into 2" pieces
Freshly ground black pepper, to taste
1 qt. Vegetable Stock
Course salt to taste (optional)… Stir in just a tiny bit for each bowl, just before serving
1 Granny Smith apple, peeled and cut into tiny dice
½ cup pumpkin seeds, toasted
1 TB finely chopped chives

Instructions
Place a large (5-qt) heavy-bottomed pot over medium high heat for 1 minute.
Add onions and celery and sauté until translucent, about 3 or 4 minutes. Add the fenugreek, ginger, garlic, and cloves and sauté for 1 minute. Add a tablespoon or 2 of vegetable stock to help the spices infuse their flavor into the onion/celery mixture.
Add squash and stir to combine with the spices. Add the rest of the stock and season lightly, or to taste, with ground black pepper. 
Raise the heat to high and bring the stock to a boil, then cover, lower the heat and simmer until squash is tender, about 20 minutes.
Working in batches, ladle some of the solids and liquid in a blender to no more than 1/2 full, place lid on blender and cover with a kitchen towel, placing your hand on top. Warning: soup can get so hot and can blow off the top, hence these directions. Blend on high until smooth. Pour into a large container, and continue adding more solids and more liquid to the blender, processing until smooth. Repeat if necessary.
Pour the blended soup back into the pot, and rewarm just before serving.
To serve: Ladle the soup into warmed wide, shallow bowls, or for an hors d'oeuvre, ladle into small cups. At this point you can add just a pinch of salt to each serving and stir. Garnish with a scattering of diced apple, pumpkin seeds and chives.